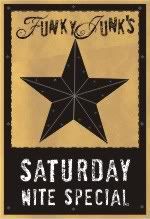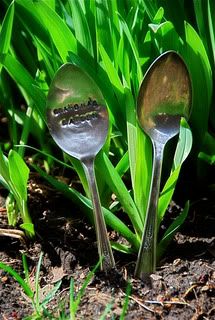 I know these stamped spoons are all over blogland so I won't bother going into detail about how I made mine. Yes, these are two of my Goodwill spoons, so I'll stop whining that they didn't have anything good because I did pick up these fabulous specimens.
Here are a few tips I learned while doing this:
Smash the heck out of that spoon to get it flat ... it can take it, just don't hit the handle. I found I had to keep switching sides until it was completely flat. This is a good project for letting out some frustration.
Don't put your letters down backwards (note the D in grandma - I "fixed" it and we'll just call it a design feature).
The best tip though - after you use your Sharpie to fill in the stamped letters use a Mr. Clean magic eraser to remove the excess. Works better than anything else I've tried.
(why yes, that is me reflected in the unstamped spoon...)
From start to finish this took me less than a half hour, including locating the missing letter E from the stamp set (it fell into a box in the garage during the kitchen reno). I just have to make another one for my mom (don't know why but I assume this one's for my mother in law).
Love an instant gratification project.
Now to figure out how to get the pictures in to this post without using Flickr since too many family members look at my account (they don't read my blog!).
update
: my apologies if these pictures are huge. I had to use an old Photobucket account and even though I resized them, they still seem to be appearing in gigantic size and I don't feel like fiddling around with it any more since I'll probably never use Photobucket again. We'll pretend I just like to show lots of detail.