This week Donna at Funky Junk Interiors has a surprise category for her Saturday Nite Special linky party - Dressers, Dressers, Dressers. I knew my little dresser just had to come out to play for this one.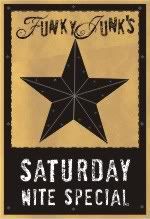 This dresser was the first piece of furniture I ever refinished so she holds a special place in my heart. I was newly married and my mother-in-law passed this over to me. I wish I had a before shot but, unfortunately, we are talking 20 years ago and I never thought to take pictures of it or the refinishing process. Too bad, we could have had a laugh at the permed hair I was sure to be sporting at the time!
It had been well-used and painted over numerous times. The top coat was white, then red, then another coat of white, then I think there was a dark stain. There might have been another coat in there too.
So out came the Citra-strip (great stuff - works well, smells great and it's non-toxic). I have no idea how long it took me but I know I used most of the bottle of remover and lots of steel wool. I do hope I wore a mask because I'm sure some of that paint had lead in it!
If I remember correctly, I used tung oil for the finish. It's a bit more orangey than I would like it to be, but the wood is so beautiful that I've left it alone.
The original pulls were red plastic vintage 1980's beauties. Since I didn't want the holes to show, and at the time I couldn't find the odd size, I ended up using these. I am not a gold person so someday I may change up this hardware.
She is stuck in a corner at the moment (and very hard to photograph where she sits) because we are in the process of rearranging the living room but cant do anything until we get rid of our monstrous piano. So please ignore the cords beside her and the plant that kept getting in the way. And yes, that is part of our record collection off to the right.
Now go check out all the amazing projects at Funky Junk Interiors, my favourite linky party of the week.