This is a project that I have wanted to do for almost 10 years but never had the nerve to do it. So there it sat, in all its orange glory. But since we renovated the kitchen it is now exposed to the family room and every time I sat on the coach it stuck out like a big orange blob.
Last Sunday I decided ... enough's enough ... I'm painting this baby. So, in my usual haste, I started taking off all the hardware before I remembered to take a before shot. This picture was taken when we were packing up for the kitchen reno, thus the chairs stacked up in front of it.
I wanted to paint it a darker grey, but the husband, who stated that he "didn't care what I did to it" all of a sudden got opinionated about the colour. I started with CIL Surreal Blue, went down a shade to Silver Trophy, but he finally won with the even lighter shade of Fine Silver. I do like it, but would have liked it to be just a tad darker. I'm toying with some kind of glaze over top to give it some oomph. Lindsay at
Better After
used a cool product today that I may try to track down.
I started with a primer coat, followed by two coats of paint, then one coat of varathane. I should have probably done another coat of varathane, but I was getting lazy!
There are lots of imperfections but that's okay. I'm just so happy to get rid of the orange. I kept the top in the original finish because a) it matches our dining room table and b) it was much easier to cover it then have to move the top and c) I knew I'd never get a nice even coat on it like it has now.
As you can see, I took off the doors. I was thinking about doing that and when the husband saw me taking the doors off to paint them he commented that it looked nice like that. Sold! Then I mentioned that it was really nice that their was already beadboard on the back. He looked at me like I was a bit loopy ... oh, he said, you mean the PANELLING. I then gave him the stink eye and told him, no, the BEADBOARD. (full disclosure, technically it IS panelling, but I wasn't giving that to him).
Without the doors I've been able to add my pride and joy ... my Keiller Dundee marmalade crocks. They look much better here than they did in behind glass in the kitchen.
Linking to Funky Junk Interiors'
Saturday Nite Special
.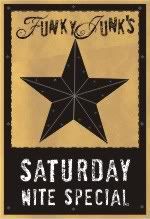 Edited to link to Life in the Fun Lane's first Fresh Coat Friday.