I'm joining Donna's Vignette Party over at Funky Junk Interiors.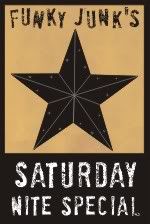 These are just a few gatherings I have around the house.
The first is my new coffee table tray. I've never had anything on here because the trunk is also our liquor cabinet. We rarely use it, but it's awkward to offer a guest a drink and then make them wait

while we unload a bunch of stuff off the top. So I found this tray at Home Sense (love) and now I can just pick up the whole shebang if I need to get into it.
I recently redid my mantle. It is very narrow so decorating it is always a challenge. I repainted the candle tray a few weeks ago (it used to be cranberry) and added the numbers. I added the little white pumpkins today, which is the extent of fall/Halloween decorating in my house.
This vignette sits atop my hallway shelf thing we got from a friend. I can't give a full shot of this beautiful piece because it's a mess. I live with teenagers, enough said.

This is a little grouping of cream and sugar dishes that all belonged to my grandparents. They are on the bottom shelf of my dining room plate rack.

For some really great inspiration head over the Funky Junk Interiors to see the rest of the party goers.

(my apologies if the text is small with huge spaces in between - blogger is being mean to me.)